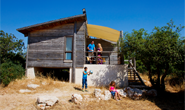 [W]e like to think of our tailor made vacations as you would a new suit. There are lots of very good package holidays out there which may match your requirements, but we can ensure that you get exactly what you want with our tailor made service. Do you want to fly on a particular day? Easy. If we can't get you there direct we will find the best alternative routing. If you're travelling east there are countless choices via Dubai, Abu Dhabi or Doha and if you're going west you can get to almost anywhere with one flight change in Europe.
[D]o you have a favourite hotel you want to stay at or perhaps there is one that has been recommended to you? No problem. We work with all of the best hotel groups in the world as well as many individual and boutique hotels, so whatever you're after, the chances are that not only can we do it for you, we have the best prices as well.
[I]s there a special sightseeing trip you want to do or are you looking for someone to guide you on the best things to see and do at a particular destination? Just ask. Zaatarah Holidays has been in the business of arranging tailor made holidays since the company first started in 1960 and we have a team of expert consultants waiting to help you.
[W]hatever your needs may be, our network of contacts around the world gives us access to the best of everything and all at very competitive prices.