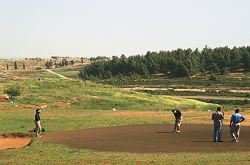 From diving to skydiving
[F]rom exploring the Gulf of Aqaba and its kaleidoscope of colours, to the dizzy heights of jumping from a plane at 13,000 feet (4000 metres), Jordan offers a range of sports activities. It's possible to do a tandem parachute jump here without any previous training. Jumping with some of the most professional skydiving instructors in the world is a once in a lifetime opportunity that allows those with a sense of adventure to experience the excitement of freefall skydiving.
[S]afety in skydiving is extremely high and especially so in tandem jumping. Each harness has a main parachute and a reserve parachute and the tandem rigs are designed with a bigger canopy to hold two people. There are very strict conditions regarding age, health and weight, but if you are fit and healthy, Skydive Jordan might just provide you with the thrill of a lifetime.
[I]f you're planning to scuba dive in the Red Sea as well as skydive, make sure that you take to the air first or leave at least two days after scuba diving before skydiving for safety reasons. There are several dive centres in Aqaba and they all offer well-maintained diving equipment, professional instructors, and transport by boat to a variety of dive sites. If you would rather see the marine life without getting wet, you can join a cruise on a glass-bottomed boat or even a submarine.
[T]here are plenty of other water-sport activities available in Aqaba, as well as an extensive and interesting Marine Park. All of the land based sports that you would expect are also available in most of the hotels and resorts throughout Jordan.