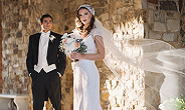 [E]very holiday we arrange is very special but none of them are likely to be more important than the one you take following the biggest day of your life. That's why we take extra special care to ensure that we help you find your dream destination and then look after all of the little details that go towards making your honeymoon memorable.
[E]veryone has their own idea of their dream destination and our aim is help make that dream come true. You might want to laze on a pristine beach on a tropical island being pampered for two weeks, or you may like to spend your time on a luxury cruise ship enjoying the scenery and visiting a new destination every day. Your dream might be to see the big animals on an African safari trip, or maybe you want to take in one or more of the vibrant capital cities of Europe – Paris, London or Rome for example. How about somewhere with a difference? Kerala in southern India would allow you to combine fabulous beaches with the tranquil backwaters, the wildlife reserves and even a stay in your own private palace on the same trip.
[T]he possibilities for your dream honeymoon are limited only by your imagination. We can suggest a whole world of ideal locations, but if you already have something in mind, let us know what it is and we will use our considerable resources to make sure that you get the best value for money possible for your holiday of a lifetime.